Join us on the fourth Thur. May 26, 12– 1 pm, for an in-person forum @ KC Artist Coalition Gallery, 3200 Gillham Rd; Kansas City, MO or Facebook Live:  https://www.facebook.com/Goguildit/videos/. After growing hundreds of Kansas City art businesses for 7 years, GUILDit and Susana Bruhn will present theirs. The presentation will be followed by an inspiring Q&A. Let's
A BIG THANKS to Sunflower Bank, N.A. for their $2,000 sponsorship! The money will help GuildIt in assisting artists to recover from the epidemic recession. The Greater Kansas City Chamber of Commerce findings showed the arts as the hardest-hit industry by the recession, so it is definitely needed aid. Pictured are GUILDit team members Evan Shufflebarger,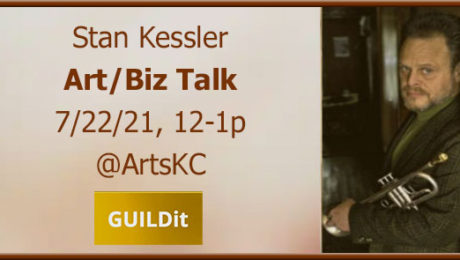 Join us on the fourth Thursday, July 22, 12– 1 pm on Facebook Live in-person @ ArtsKC, 106 Southwest Blvd; Kansas City, MO 64108or FaceBook Live: https://www.facebook.com/Goguildit/videos/ Jazz performer and UMKC professor Stan Kessler will present his art biz. How he promotes, makes money, plus goals, needs, and challenges for brainstorming. After his Q&A we'll
Join us at 1 Million Cups – Kansas City (1MC KC) Wed. 5/19/21, 9–10am on Zoom https://kauffman.zoom.us/j/97200919140 or Facebook Live: https://www.facebook.com/1MillionCupsKC/videos/ At 1 Million Cups, GUILDit will present its mission, goals, needs, challenges for brainstorming. Help grow our nonprofit to serve more entrepreneurs. Details: GUILDit connects sole artists and entrepreneurs with resources and a strong
Join us Thursday 5/27, 12– 1pm on Facebook Live https://www.facebook.com/Goguildit/live/ or on Zoom: Join Zoom Vanessa Lacy will share the Profit First method of financial management. The Profit First formula flips how business owners typically think about accounting and budgets, so to increase their cash flow. After Vanessa's Q&A, the GUILDit Team will lead a discussion
Join us Thursday 4/22, 12– 1pm on Facebook Live https://www.facebook.com/Goguildit/live/ or on Zoom: Join Zoom Let's brainstorm with Kimberly Beer. She will talk on 'Determining Your Value Proposition as an Artist'…You want to be a successful business owner BUT, whenever you're at a class or workshop you feel left out because all the other businesses in
Join us Thursday 3/25, 12– 1pm on Facebook Live https://www.facebook.com/Goguildit/live/ or on Zoom /// Meeting ID: 891 4729 4091 /// Passcode: 142933 /// https://us02web.zoom.us/j/89147294091?pwd=QzllbTBxTGVDV0Y3NGdqY2Fxb0xRZz09 Let's brainstorm on art recovery with City In Motion Dance on reestablishing its 35-year old nonprofit school plua youth and professional companies after the pandemic. They will share their socially-distanced and
Your support has made GUILDit endure and thrive. We are thankful to be there for you and we share these successes with you. To help grow GUILDit in 2021, sign-up for our newsletter and attend our events. Plus, donate or contact our director about a sponsorship packet or grant proposal. Celebrating 5 years of GUILDIt!See
Thursday, 01 October 2020
Storytelling (tix available) & Raffle (sold-out) Thur., Oct. 29th 7-8pm on Zoom // Get tickets >> Join GUILDit for an evening of spooky stories, raffle giveaways, and help support arts entrepreneurship. Tickets start at $10. Two epic tales of death and greed, from Africa and Europe, by two nationally known Kansas City storytellers.– First Br.