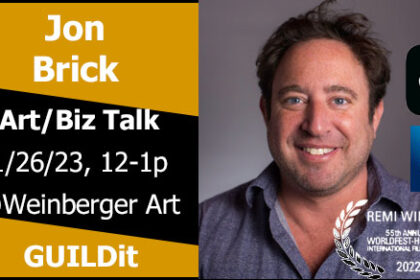 Join us on the fourth Thur. Jan. 26, 12– 1 pm, for an interactive art/biz forum at Weinberger Fine Art, 114 Southwest Blvd, KCMO; or Facebook Live 
Filmmaker Jon Todd Brick recently directed and edited the feature documentary, Class of COVID- 19. The film won the 2022 International Black Film Festival- Nashville Best Long Documentary, Kansas City Film Fest International Audience Choice Award for Documentary Feature, and the Silver Remi Award at WorldFest- Houston International Film Festival. The documentary was also screened at the Portland Film Festival and the Twin Cities Film Festival. In 2018, Jon directed, produced, and edited the award-winning feature documentary film, Uncommon Allies. The film is currently on Amazon Prime, Apple TV, Roku TV, and VUDU. In 2016, Jon produced the feature documentary film, Beyond Laughter and Tears, directed by Oscar award-winner Doug Blush.
Let's expand his business, yours, plus the arts and economy. In-person networking following the event.