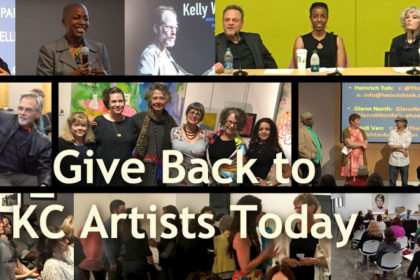 2018 Top 10 GUILDit Happenings
KC's lil biz org for artists, entrepreneurs, and patrons has a lot to be thankful for. From growing Kansas City businesses to growing our grassroots organization.
GUILDit's first art exhibit hosted by Johnson County Library with artists: Cheryl Eve Acosta, Laura Berman, Jane Booth, Teresa Dirks, Katrina Revenaugh, and Robin VanHoozer.
20% increase in attendance at our free public forums.
Booking the talented Clarissa Knighten, Molly Hammer, and Laura Berman on Channel 41 'KC LIVE' with 1000s of viewers. We also gave exposure to our collaborating organizations Johnson County Library and Global Entrepreneur Week.
A sold-out speed networking event at ArtsKC that connected 30+ professionals leading to referrals and collaborations.
Two multi-discipline panels at Johnson County Library: 1) First with performer Heidi Van, printer Miguel Rivera, musician Stan Kessler, and dancer Maura Garcia; 2) Then with singer Molly Hammer, artist and poet Teresa Dirks, plus poet and artist Maria Vasquez Boyd. 
Mikal Shapiro finding resources for licensing and ways to successfully build on her network outside of Kansas City.
Jeff Harshbarger was given proven ideas on promoting his first album and gigs on the road, plus financing his recording.
Hosting our forums at the inspiring Kemper Museum of Art.
The dedicated GUILDit team of staff members Ebony Johnson, Luis Garcia, Heather Collinsworth, and Susana Bruhn. Plus our board members Amy Bagnall, Grant Harse, Kimberlyn Jones, Jon McGraw, Michael Williamson, and Becky Wilson. Along with assistance from Joseph Johnson, Roy Morrill, Mitchell Smith, Rachel Treanor, and Paul Tyler.
The many happenings that just happen when you get together a room of talented artists, plus art and business enthusiasts.
To support more of our happenings,  donate  to help us strengthen KC's economy and culture. THANKS!